Beach forecasts are updated weekly on Thursdays prior to an upcoming weekend throughout the summer months, from Memorial Day through Labor Day (seasonal)
Marine Forecast Discussion
Forecast: High pressure remains in control of our weather Friday and then shifts to the east on Saturday. Temperatures will remain on the slightly cooler side of average through Saturday, then increases on Sunday with a SSW wind flow, despite partly to mostly cloudy skies expected. A cold front drops south on Sunday night and Monday with isolated t-storms possible with the front itself, then lingering showers are possible Tuesday as the front maintains nearby. As the front continues southward on Wednesday, a return to partly cloudy skies and seasonable temps are expected.
Tropical concerns: None this week
Marine: Seas are currently around 2 ft. wave heights with a southeasterly swell, and a dominant period of 10-12 seconds. Wave heights will begin the period around 2-3 ft. on Friday and Friday night, then drops off over the weekend to 1-2 feet, and slightly increases to 2-3 feet by Monday with a cold front in the vicinity. That front is expected to slow and perhaps stall for a time on Tuesday leading to a showers threat, and increase wave heights to 3-4 feet Tuesday as a result. As the front continues southward Wednesday, wave heights return to 2-3 feet. Thunderstorms can provide localized rough boat and beach conditions higher than wave heights indicated, and you should monitor statements issued by the National Weather Service forecast office in Mount Holly, NJ for the latest marine advisories. At present time, thunderstorms are most likely to occur on Monday over any other day in the forecast period. Ocean water temperatures will run slightly above seasonal averages for this point of early September during the upcoming week generally upper 70 to near 80° this weekend and upper 70s next week.
Forecaster: Rinaldi
Last updated: 9:30 AM Thursday September 1st, 2022
Next beach forecast update is scheduled for Thursday May 25th, 2023 ahead of Memorial Day weekend. Given that the beach forecasts are seasonal products that are updated in between Memorial Day and Labor Day, this will be the final beach forecast update of the 2022 season.
Tides and surf info for Atlantic City, NJ - CLICK TO ENLARGE
National Hurricane Center Tropical Activity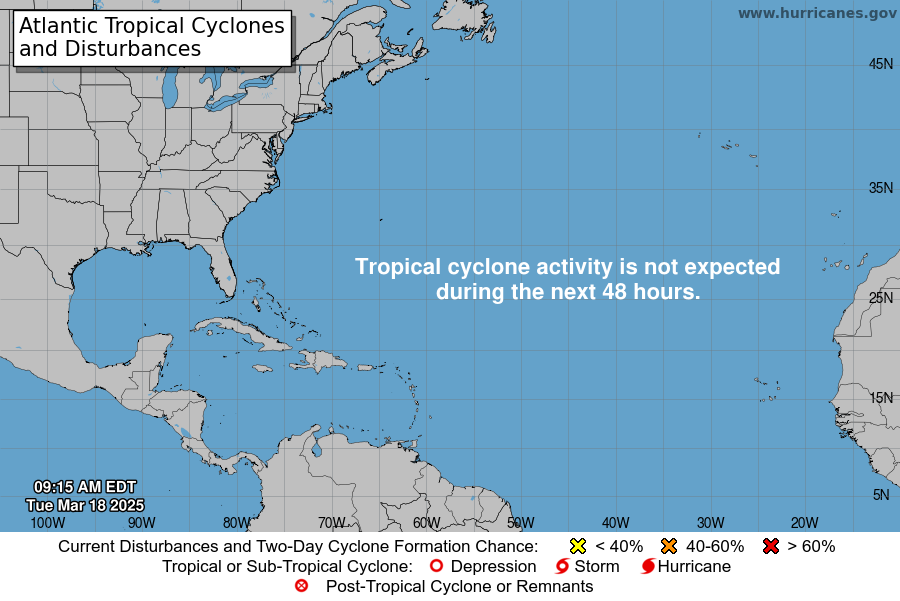 Latest Sea Surface Temps - updates in real-time
East Coast visible satellite loop