Beach forecasts are updated weekly on Thursdays prior to an upcoming weekend throughout the summer months, from Memorial Day through Labor Day (seasonal)
Forecast: The Memorial Day Holiday weekend will start off unsettled on Friday with a cold front moving through the region on Friday night. Most of Friday is mostly cloudy and dry, then very late in the day, more likely the evening, scattered showers and thunderstorms will be possible along and ahead of the boundary. The chances for scattered showers and thunderstorms increases overnight, but diminishes late in the night. Saturday a trailing upper level low swinging through could touch off a stray PM shower, but partly sunny otherwise. The remainder of the holiday weekend will feature mostly sunny skies and increasing temperatures throughout the week as ridging builds into the region.
Tropical concerns: NONE
Marine: With a cold front moving through the region on Friday and Friday night, seas will be notably higher at 4-5 feet both in advance of the front and after it passes on Saturday. Seas will calm in the days that follow with wave heights dropping to 3-4 feet on Sunday, and 1-3 feet for the remainder of the forecast period. Ocean water temperatures are still quite chilly this time of year, and sea surface temperatures will remain relatively close to seasonal averages this week. Thunderstorms can provide localized rough boat and beach conditions, and you should monitor statements issued by the National Weather Service forecast office in Mount Holly, NJ for the latest marine advisories. At present time, the most notable period for thunderstorm activity this week will we on Friday and Friday night associated with a cold front.
Forecaster: Martrich
Last updated: 11:00am Thursday May 26th, 2022
Next beach forecast update is scheduled for Thursday June 9th, 2022
Tides and surf info for Atlantic City, NJ - CLICK TO ENLARGE
National Hurricane Center Tropical Activity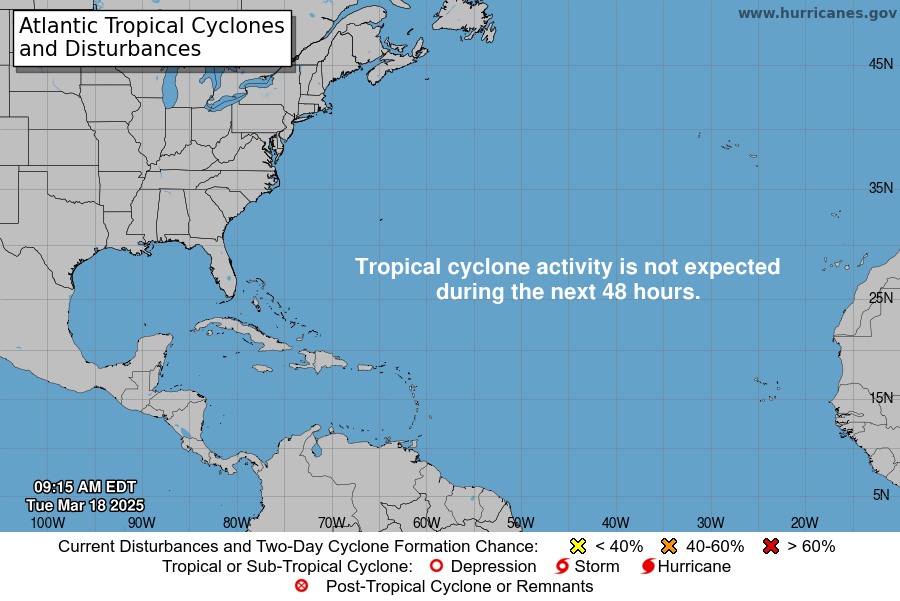 Latest Sea Surface Temps - updates in real-time
East Coast visible satellite loop