Beach forecasts are updated weekly on Thursdays prior to an upcoming weekend throughout the summer months, from Memorial Day through Labor Day (seasonal)
Forecast: A temperate start to the period with slightly below average temperatures, but more comfortable with lower humidity and mostly sunny skies through Saturday. A warm front crosses Saturday night and early Sunday morning, leading to mostly cloudy skies early on that will become partly cloudy throughout the day. Temperatures will then increase on the opposite side of the warm front from Sunday onward. A cold front will follow on Monday with variable clouds and scattered showers and thunderstorms possible. That front may be slow to exit and still close enough to continue an isolated thunderstorm threat on Tuesday afternoon/evening. Partly cloudy skies round out the forecast period on Wednesday.
Tropical concerns: None expected in the upcoming week 
Marine: Seas are currently around 3 feet with a southeasterly swell, and a dominant wave period of 6-8 seconds. Wave heights will remain calm and generally 2 feet or less through Saturday. Wave heights increase Sunday with southwesterly winds gusting to over 20 knots in the wake of an overnight warm front to 3-5 feet, and maintain on Monday at 3-5 feet with a cold front slowly moving through the region. Wave heights will begin to gradually lower Tuesday and Wednesday as the front clears to the SE. The presence of thunderstorms can provide rapidly changing and deteriorating boat and beach conditions. Please follow the National Weather Service statements for any marine advisories that are issued for thunderstorm activity, coastal flooding, and rough seas. This week the most notable periods for t-storms will be Monday and Tuesday PM, as a cold front slowly traverses through the region.
Forecaster: Meteorologist Jim Rinaldi
Last updated: Thursday July 22nd, 2021 10:00 AM
EPAWA beach forecasts are a seasonal product, and are updated every Thursday prior to a weekend during the Summer months, between Memorial Day and Labor Day weekend. Next scheduled update to this forecast is scheduled for Thursday July 29th.
Tides and surf info for Atlantic City, NJ - CLICK TO ENLARGE
National Hurricane Center Tropical Activity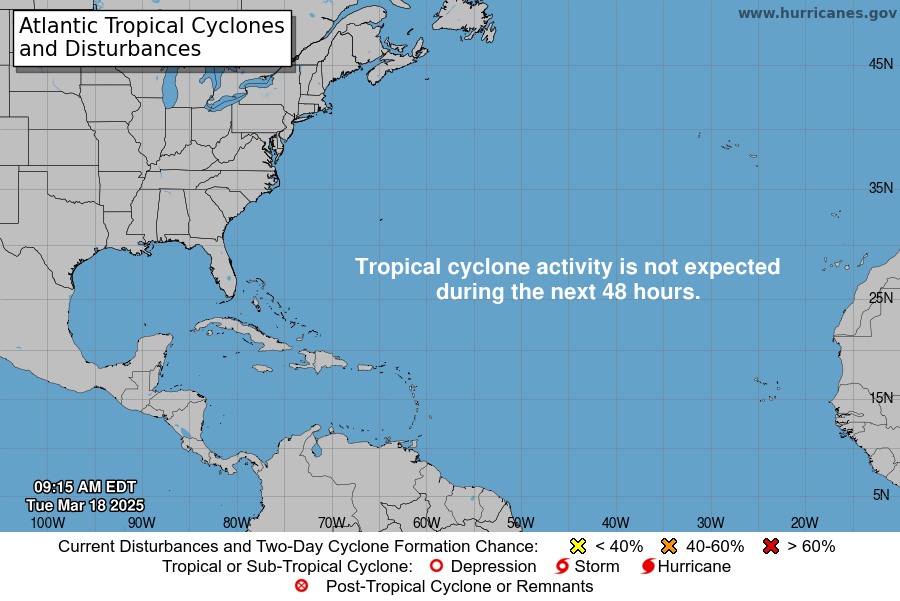 Latest Sea Surface Temps - updates in real-time
East Coast visible satellite loop